During a walk in the forest near to my home village  L´Ametlla del Vallès  ( this forest is mainly composed of mediterranean oak and rather humid) I found this strange plant.
I am actually not even sure if the white filaments are flowers or seeds, in the center of the whole thing it is possible to see a type of reddish flowery-thing too. I tried to identify this plant by all means without success, even asking for help two specialists (but got no anwer)..
The only details I am able to mention is that the rest of the plant appeared to be completely dry and of the climbing type.
So, if any of the kind visitors knows anything about this botanic enigma, maybe at least the family it belongs to, I would deeply appreciate any information!
Thanks to a good Facebook-friend we know now that those extravagant filaments are the seeds of a plant of the Clematis family.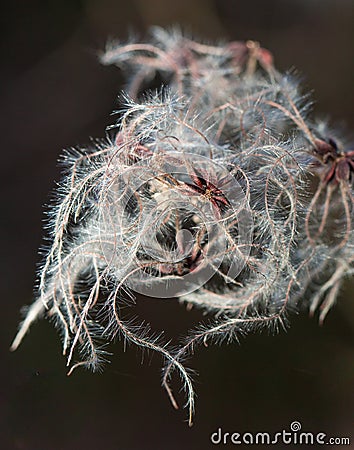 © Photographer: Joan Egert | Agency: Dreamstime.com